Coffee in the workplace is essential. It's tasty and comforting. It can also boost your team's mood and bring everyone together. Many employees can't make it through the day without a cup of coffee or tea! That is why a modern Orlando, Oviedo, and Sanford office coffee service has a wide range of options. From a single cup coffee maker to a traditional coffee service, the sky's the limit. Both office coffee machines offer distinct advantages. The one that's right for your workplace depends on the different preferences and needs within your office.
7 Reasons to Use a Single Cup Coffee Maker in Orlando, Ovideo, and Sanford Break Rooms
A single cup coffee maker can be an excellent choice for Orlando, Oviedo, and Sanford office coffee services. The Flavia Coffee Machine, model C600 is one of our most popular models. Here's why:
It's Built for Freshness: With the Flavia® CREATION 600, every cup is brewed on demand. That means each cup is hot, fresh, and made just how you like it. You won't ever have to drink stale coffee with this single cup coffee maker.
Variety: The Flavia Coffee Machine is a complete coffee tea & water station all in one. Employees can enjoy a wide range of beverage options. There are fourteen different types of hot and cold drinks. From coffee to tea, lattes, infused water, and more, you can make your favorite drink.
It Handles Volume: These modern office coffee machines are built for large offices. Each brewer can handle from 100-250 employees. That means this break room solution is excellent for serving coffee at meetings and events.
Always Ready to Go: The Flavia coffee machine can be used at any hour of the day. Whether your employees have an early meeting or need caffeine for a late deadline, your single cup coffee maker in Orlando, Oviedo, and Sanford serves fresh, hot coffee.
It's Eco-Friendly: The Flavia C600 can save up to 70% of energy. Plus, it has a 55% lower carbon footprint per cup of coffee compared to other popular liquid dispensing machines. A win for the planet, a win for your budget!
A Customized Cup for Each Person. Every employee can personalize their drink. Each detail can be personalized from the cup size, to brew strength and flavor profile.
No Flavor Mixing. The Flavia coffee machine uses a patented brewing process. It avoids cross-contamination in flavors. That means you get only the taste of the coffee you love.
Traditional Office Coffee Service Stands the Test of Time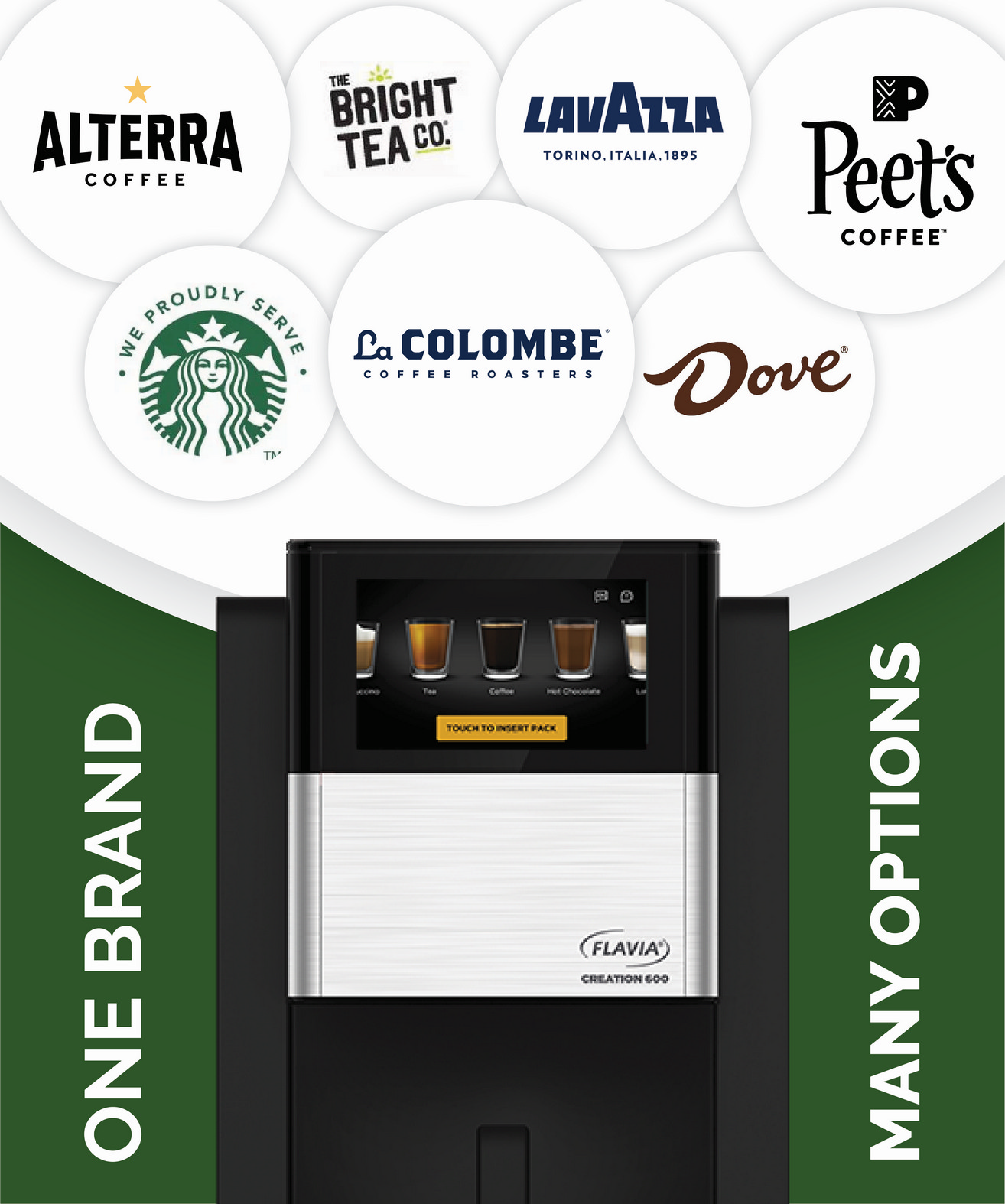 Classic and timeless, traditional coffee brewers are also a popular choice. When selecting your Orlando, Oviedo, and Sanford break room services, there are many reasons why you might opt for a traditional coffee brewer.
Traditional coffee brewers are great for serving large groups in minutes. How? Simply brew the pot ahead of time, and everyone can enjoy a fresh cup of coffee. This option is also cost-effective. In addition, you can brew coffee with a traditional coffee machine at any time of day. It's a classic for a reason. It's simple, reliable, and offers an excellent cup of coffee.
Hire the Orlando, Ovideo, and Sanford Vending Experts for All Things Office Coffee: Gator Refresh
Gator Refresh is a true pioneer in Orlando, Oviedo, and Sanford vending services and break room solutions. For instance, Gary, our founder, recently spoke at a conference about the future of vending technology. He shared a few of the things we do differently at Gator Refresh.
Our vending services including our Orlando micro-market and Orlando office pantry services bring customers the latest and greatest in break room technology. How does that impact our office coffee service? One way is that you can order products online. That means you can get more quality coffee, faster. Also, many of our brewers are contactless. Order your favorite coffee right from your smartphone!
Additionally, we pride ourselves on outstanding customer service. Therefore, we offer around-the-clock support. When an issue does arise (which is rare!) our turnaround time is just 2 hours. We provide regular maintenance and upkeep to our equipment to minimize issues. Our goal is to give you a top-notch Orlando vending experience!
Gator Refresh is your partner in creating the perfect office coffee station for your break room. Get in touch today at 407-538-3586.