The scent of freshly brewed coffee can perk up your Orlando, Oviedo & Sanford team. A bean to cup coffee machine ensures you always get the freshest cup of coffee. This coffee machine for office break rooms is popular with good reason.
Discover why a bean to cup office coffee service might be the best choice for your workplace.
3 Reasons a Bean to Cup Office Coffee Service is Right for Your Orlando, Oviedo & Sanford Workplace
What is a bean to cup coffee machine? A bean to cup machine grinds coffee beans on demand just before brewing. Did you know that as soon as coffee beans are ground, they start losing flavor? Grinding your coffee beans immediately before brewing coffee offers a richer, more flavorful cup of coffee. Not to mention the wonderful aroma it creates!
Here are three reasons a bean to cup office coffee service is the right choice for your Orlando, Oviedo or Sanford office break room:
1) Your Team Includes Coffee Connoisseurs
Do your employees love a quality cup of coffee? If your team drinks specialty coffees like macchiato or cappuccino, a bean to cup coffee machine is an excellent choice. Plus, you won't have stale coffee! It's as fresh as can be because of the way this machine works.
Save staff a trip to the café with our Orlando, Oviedo & Sanford bean to cup service.
2) Aesthetics Matter to Your Team
Our Azkoyen Vitro X5 brewer in particular is a favorite for this. It's minimalist and sleek with a user-friendly touchscreen. The contemporary design makes it a pleasure to not only use but to view as well!
Plus, it's our best bean to cup coffee machine. The Azkoyen Coffee Machine makes everyone's favorite coffee. Making a personalized cup is easy. Simply choose the coffee size, your favorite drink, and the coffee beans you prefer. Your drink will rival that of your favorite café.
3) You Have a Fairly Large Office
Despite being a countertop coffee machine, the Azkoyen Vitro X5 bean to cup machine can make up to 250 cups per day. It's not a huge piece of machinery but can keep up with a fairly large office. You could even install more than one if you have multiple levels of offices!
A major bonus with this style of coffee machine is that there is never cold, stale coffee. Each person gets a fresh cup each time.
Upgrade Your Orlando, Oviedo & Sanford Break Room with Our Office Coffee Service and More!
While your team is enjoying a tasty coffee, chances are they'd also love a snack. Our Orlando, Oviedo, and Sanford office coffee service pairs perfectly with other break room solutions. Why not add a micro-market or office pantry? A micro-market creates a mini store in your office break room. There, employees can purchase fresh food, snacks, and beverages.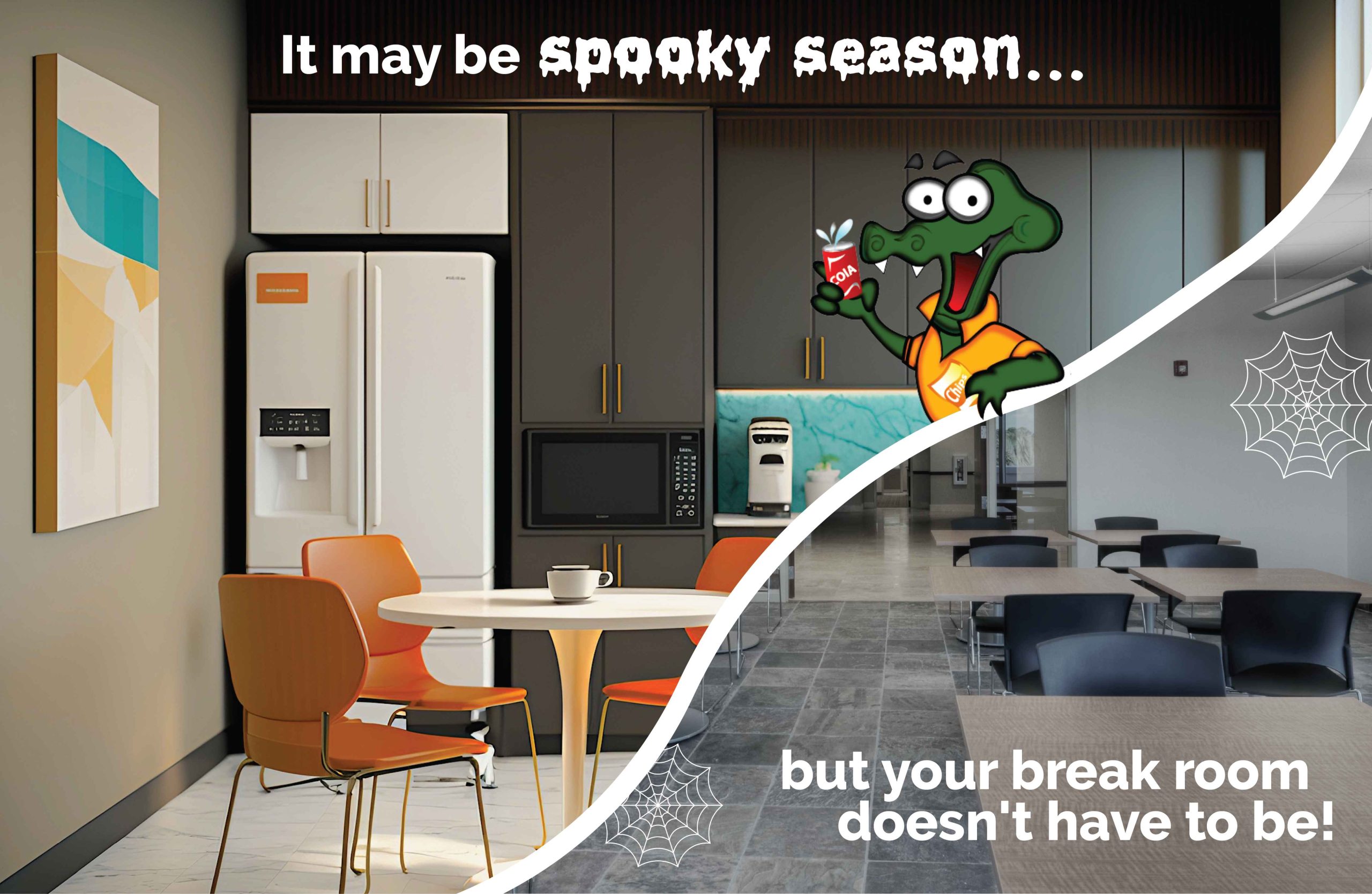 Similarly, our Orlando, Oviedo, and Sanford office pantry service brings food to the break room. With this employee perk, your team can access free snacks and beverages. Fueling your team keeps them energized and motivated.
Another upgrade to consider is our water filtration service. Enjoy fresh water at the push of a button with Gator Refresh! The ION Bottleless Water Cooler can be used to make your hot coffee taste even fresher. Plus, it keeps your team hydrated. In fact, employees can add flavor enhancements for an even tastier cup of water. We also have Follet ice and water dispensers to keep larger offices hydrated and healthy year-round.
Gator Refresh is Your Partner for All Break Room Needs
When you need an office coffee service near me, Gator Refresh is here to help. Our bean to cup Coffee machine features a convenient top-loading bean grinder that grinds beans during the brewing process. Your team will love drinking the freshest, tastiest coffee.
We are committed to providing top-notch service to businesses in Central Florida and Orlando. Let us know how we can help improve your break room! Contact us at 407-538-3586 to learn more about our office coffee, micro-market, and office pantry services.